Unique curtain fabrics. The perfect curtains are rather delicate, slightly transparent and work fantastically as an accent in the room. Curtain materials, on the other hand, are often an eye-catcher and can also be used as a blackout material. However, both have one thing in common: they should have a high level of light resistance, have a beautiful, gentle fall and have a positive effect on the acoustics and coziness in the room. We offer a wide variety of curtain fabrics in great qualities in digital printing, screen printing, jacquard woven or something more subtle than plain.
You can find an overview of a wonderful selection of some curtain materials below. You can find further details about our curtain materials in the respective item description and if you have any further questions, we are happy to help you at any time.
Get inspired!
Curtain fabrics sold by the meter
Buy curtain fabrics by the meter online for your very individual sewing project. Every room is different and we offer you an exquisite selection of fabrics for a very special ambience. We deliver our curtain fabrics by the meter to measure - from just 1 meter - for sewing and designing curtains. So that you can convince yourself of the quality, patterns and colors, you have the opportunity to order free hand samples in advance. Let your creative ideas run wild and your room design will become your very own personal project with particularly high-quality and sustainable curtain materials.
Ready-made curtains do not always correspond to the exact ideas of personal window decoration and we would like to help you have more individual design options for your home. All you need to sew curtains yourself is a sewing machine and accessories such as thread, scissors, tape measure, pins for pinning and possibly eyelets or ruffle tape for hanging your curtains appropriately. Not to forget, of course, the matching curtain material.
Which curtain fabric is the right fabric for my sewing project?
There are different variants of curtain fabrics, which we have presented for you below with some furnishing ideas.
Stylish curtains for your living room
First of all, it must be clarified in which room the new curtain should be placed. We offer curtain fabrics by the meter for designing living rooms, kitchens, dining rooms or curtain fabrics for children's rooms. Here, for example, is a very creatively designed curtain fabric made of soft velvet fabric with a modern floral pattern for your living room: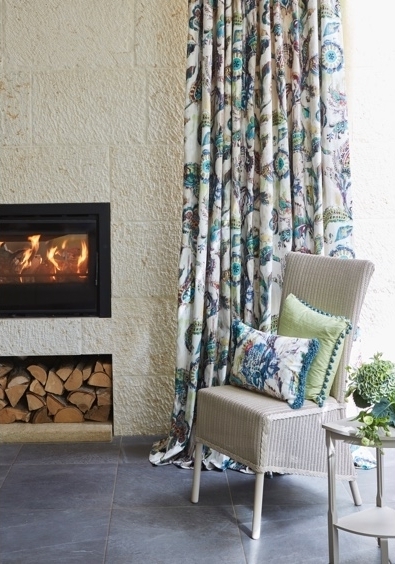 Modern curtain fabrics in fresh colors
The right curtain fabric for the young and the young at heart in fresh, modern colors with an animal-friendly pattern printed on 100% high-quality cotton. The generous design patterns such as hedgehogs, foxes or owl are a real eye-catcher for any living space.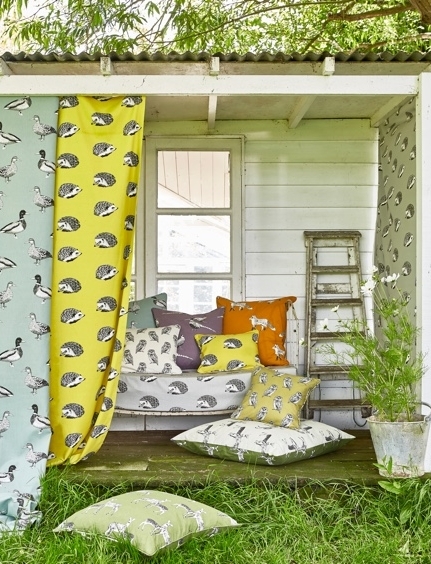 The right style of your curtains
The next step is to choose the right style of your curtain materials. Curtain materials can be modern or very classic. Here you will get an overview of different styles for your curtain fabric:

Country style
Colonial style
French style
Minimalism
Mediterranean style
Scandinavian style
Shabby chic
Modern style
Retro interior style
Oriental style
Asian style
Patchwork style
Hanging your self-designed curtains
After you have chosen the right curtain material, the hanging option still needs to be clarified. If your room already has devices such as curtain rods or matching rails, it is of course a good idea to use them for the new curtains. Alternatively, you can choose between the hanging options eyelets, loops, curling tape, rings, loop tape or ribbons, which are available in many different designs, colors and sizes. The idea chosen here for curtains, for example, is to hang them with eyelets. The fabric is made of 100% cotton and printed with a sophisticated, three-dimensional pattern.
The correct purpose of the self-sewn curtains
What purpose should your curtain material serve? In addition to decorative elements, there is also the question of whether your curtain should be opaque as a blackout curtain or light and transparent, for example woven as voile. The material sold by the meter should also have a high level of light fastness - the color fastness to sunlight. A light roller blind made of 100% cotton, for example, can be used as a kitchen curtain.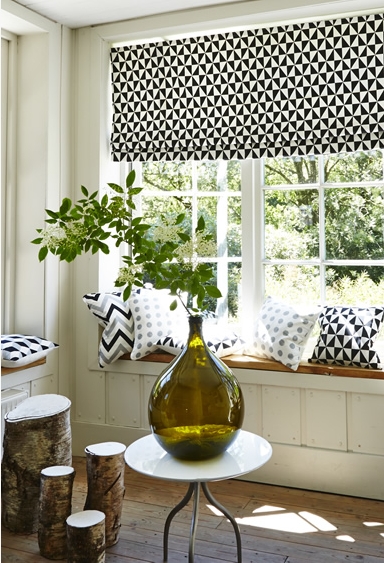 Which material for curtains?
The material can also be a selection criterion for the right curtain. We offer a high-quality selection of linen, cotton, polyester and various mixed qualities. Our fabrics are available online in a variety of designs printed, embroidered or woven.

What do I have to consider when calculating dimensions for curtain scarves?
It is helpful if the suspension, for example the rod or rail, is already attached accordingly. If you want to make the curtains floor-length, floor coverings such as parquet or carpet should also be taken into account.
A metal tape measure is ideal for measuring. The first step is to determine the type of hanging, as there are differences in the proportions whether you hang the curtains on a rod or behind a panel. If you have chosen a fabric with a pattern by the meter, it is important to pay attention to the pattern repeat. This is not taken into account at the top edge, but from the bottom edge.
Width and fullness of your curtain
The amount of curtain required depends, among other things, on the type of hanging. Individual instructions must be followed here. In general, however, for each curtain panel, one and a half to two and a half times the rod or rail width, divided by 2, is calculated for the fabric.
Length and fall of your curtain
Different variants are possible for length and fall with the following calculations:
If the curtains are to hang on a rail or integrated rod, the length is measured from the bottom edge of the curtain ring or curtain eyelet.
For curtains that hang from a protruding rod, the top edge of the curtain must be in relation to the rod. To help, you can attach a curtain tape to the curtain hook and measure downwards from the top edge of the curtain tape.
For floor-length, smooth-hanging curtains, subtract 1cm from the length for the distance to the floor. If you want to make your curtains lush, add 15-20cm to the length.
For half-length curtains, add around 5-10cm so that the fabric hangs just above the windowsill. If the window sill protrudes too far into the room, subtract about 1cm from the length so that the curtain falls smoothly.
Let's move on to the measurement calculation. The fabric consumption should not be calculated too sparingly; generously falling curtains look more attractive than the narrowly hanging variant.
First, the number of fabric panels (width or fullness) is calculated and divided by the width of the fabric by the meter. As an example: The finished curtain should be 240cm wide and the width of the fabric sold by the meter is 140cm, so you need 2 panels of fabric per curtain panel.

If the number of fabric panels required is slightly below or above the required total width, the number is rounded up or down to the next full panel width.
If the number is close to half a panel of fabric, it will be rounded up or down to the next half panel width. These half panels are sewn to the outer edges of the curtains.
Now the total size can be calculated. To do this, add the top and bottom seam allowances depending on the desired cut of the curtains. About 2cm is suitable as a seam allowance for the hem. Depending on the cutting template, additional seam allowances must be added for loops, ribbons or drawstrings. The newly calculated length measurement is multiplied by the number of fabric panels. For pattern repeats, add one full repeat per panel width (after the first panel width).
We want your online purchase to be an experience and for you to find the right fabric for your creative ideas. We would be happy to advise you so that your personal needs are met and your next sewing project becomes a special work of art.
choosing a selection results in a full page refresh