Recycled outdoor fabrics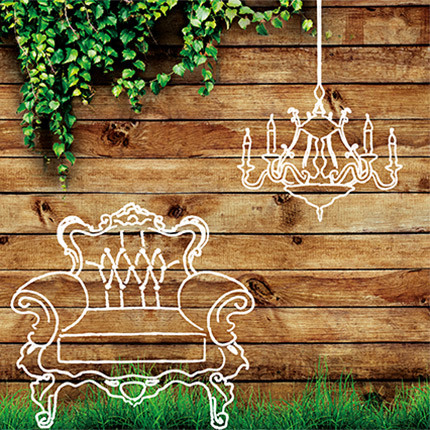 Is it getting warmer outside? Does the upholstery in your camper need an update? Are you looking for suitable outdoor fabrics that can withstand special outdoor conditions? This way....
Our outdoor fabrics are specially finished and woven with high-quality yarns made from recycled fibers.
Why outdoor fabrics?
Fabrics for outdoor use are exposed to a whole range of external influences such as UV radiation, moisture and even dirt that conventional fabrics are not exposed to. The user should ensure that, for example, the following properties are present:
high light fastness
Water repellent
high tear resistance
Here it is, our first outdoor collection made from recycled fibers, which consists only of the highest quality outdoor fabrics and meets the highest standards. And of course all the fabrics you find here are made in Europe. Other outdoor fabrics are available upon request. Feel free to write us a message.
Buy high-quality outdoor fabrics by the meter online
Are you looking for robust outdoor fabrics that you can buy online? We offer you a high-quality selection of ÖkoTex certified and European-produced fabrics for outdoor use. Outdoor fabric is the right material for durable and weatherproof home textiles and furniture. Outdoor fabrics are also known as outdoor upholstery fabric, outdoor upholstery fabric, awning fabric or outdoor fabric. Due to its wide range of uses, the outdoor fabric is very popular when sold by the meter. Our very durable fabrics for outdoor use are ideal for sewing garden covers, for example, and are of course also resilient enough to be used as parasol covers in a DIY project. But garden furniture cushions and individual decorations can also be made from high-quality outdoor fabric. To combine them, you can easily sew cushions, bean bags or curtains yourself from this wonderful fabric. Our outdoor fabrics offer excellent protection against moisture and moisture as well as increased light and sunlight.
Our range includes many heavy but also light outdoor fabric qualities that you can buy made to measure in our online shop. We offer outdoor fabrics with water-repellent and dirt-repellent properties, but also durable cover materials in plain colors or printed for the design of your outdoor area. We have a variety of modern patterns and also classic designs in stock for you in high-quality yard goods. Our outdoor fabrics are real all-rounders that impress with their resilience, are wonderfully decorative and can be used in many areas.
In addition to being used in upholstery work, outdoor fabric can also be sewn in multiple layers with any conventional household sewing machine and, thanks to its durable feel, is ideal for sewing beginners and of course also for professionals. Take a look through our comprehensive range. The price of our fabric by the meter refers to 0.5 meters, the width of our fabrics varies depending on the product (the fabric width is approximately 140 cm). The fabric is delivered in one piece. You're sure to find the right design for your next DIY project.
How are outdoor fabrics made?
Outdoor fabric is a fabric that is produced in various weaves (e.g. plain, twill or satin weave). Outdoor fabric is made from various raw materials, for example polyester, polyacrylic or polypropylene and sometimes mixed or made purely from the synthetic fibers mentioned. Synthetic fibers such as polyester are often used to ensure the durability of the outdoor fabric. We have specialized in outdoor fabrics made from recycled fiber materials. Outdoor fabrics are additionally impregnated or given a coating to positively modify the material properties. This makes the outdoor covering material UV-resistant, water- and dirt-repellent, and particularly resistant to pests and flame-retardant.
What special properties do outdoor upholstery materials have?
What properties and quality features does an outdoor fabric have? In the production chapter it was shown that outdoor fabric is flame-retardant, water- and dirt-repellent and/or resistant to pests when specially equipped. Due to the weave and the yarns used, outdoor fabric is particularly robust, breathable, abrasion-resistant, tear-resistant, waterproof and lightfast.
One of the most important indicators for outdoor fabrics is the Martindale test method, which indicates the abrasion resistance of fabrics during abrasion cycles.
The benchmark is roughly:
15,000 Martindale for private use
30,000 Martindale for office use
>30,000 Martindale for public transport
Light fastness is another quality feature for outdoor fabrics and describes the resistance of the colors used in the fabric to the effects of light. In order to achieve the highest possible light fastness, the yarns in our fabrics are spinneret dyed. This means that the yarns are dyed in the raw material before spinning and not only after the spinning process, as is the case with other fabrics.
The scale listed below provides a benchmark:
Light fastness 8: excellent
Light fastness 7: excellent
Light fastness 6: very good
Light fastness 5: good
Light fastness 4: pretty good
Light fastness 3: moderate
Light fastness 2: low
Light fastness 1: very low
We have included the corresponding abrasion resistance and light fastness of our outdoor fabrics for you in the item description. There is a good reason why we often use recycled polypropylene fibers for our outdoor fabrics, because this fiber material makes it possible to weave fabrics that offer the necessary durability and longevity that corresponds to the end use and our idea of ​​sustainability.
What are outdoor fabrics used for?
As the name suggests, outdoor fabrics are used outdoors. A wide variety of DIY projects can be implemented with outdoor fabrics. If you are a beginner making your first attempts on your sewing machine, we recommend sewing cushion covers with outdoor fabrics. This easy-to-work fabric will help you get a feel for sewing. As an improvement, more sophisticated projects such as parasols, sun sails, awnings, tents or even upholstery work are available. In addition to sewing, outdoor fabrics can of course also be glued or stapled, for example to reupholster garden chairs or beach chairs.
Here are some example products for the use of outdoor fabrics:
Sun protection
Privacy protection
tablecloth
Seating furniture
Sun sail
Beach chairs
Deck chair
Garden loungers
Bag and backpack
Beanbag
Duffel bag
Drapes/curtains
Boat covers
If any leftovers arise during the processing of our outdoor fabrics, they can also be used to cover foam. For example, you can use it to make a beautiful seat cushion and also be environmentally conscious.
Outdoor fabrics with unusual patterns
In our range you will find a wide variety of styles. We offer outdoor fabrics for everyday use in the garden, on the terrace, on the balcony or in the winter garden. Our outdoor furniture fabrics are ideal for the winter garden or summer terrace and can have a unique feel and look. The right style of fabric is available for every sewing and furnishing enthusiast.
Our patterned outdoor fabrics harmonize perfectly with various plain fabrics from our range. Thanks to our unique range design, there is the right fabric for every type of furnishing. Our range includes wonderful striped fabrics in block and pin stripes as well as vertical and horizontal stripes. And if you prefer the monochrome version, you shouldn't miss out on our UNI outdoor fabrics in modern trendy colors such as anthracite or dark green in high quality.
Outdoor fabrics in modern and classic colors

It's all about the right combination of colors. Which color goes best with your furniture in the garden, on the terrace or in the winter garden? Should it be soft pastel tones in pink, yellow or green? Are you looking for a colorful eye-catcher that will draw attention to your self-designed sewing project? A fine mix of complementary colors such as blue and yellow or red and green are also important elements in the design of your outdoor area. Or can one of the classic outdoor fabric colors such as cream, beige, gray, white, fir green or wine red be used?
With us you will find a selection of different combinations that we have ready for you. It is important to choose the right balance of different colors and to integrate your sewn product appropriately into the environment.
What do you have to consider when cutting outdoor fabrics?

There are a few points to consider, which we explain below.
Due to their robustness, outdoor fabrics are not easy to cut. As with most fabrics, you should pay attention to the direction of the thread and, if necessary, the pattern and the respective pattern repeat while you are pinning the pattern pieces. The best case scenario is to use a thimble to push your needles through the fabric if you have a particularly strong outdoor fabric version. The surface should be marked and cut with either good scissors or a rotary cutter. If the fabric is relatively thick, a sharp cutting tool should be used so that cutting the fabric does not become unnecessarily difficult.
What do I have to consider when sewing outdoor fabrics?
Outdoor fabric can be sewn easily if you use the right needle and sewing foot. Due to the thickness of the material, we recommend that you use a jeans needle with a size of 90 to 110 in the machine. We also recommend a durable sewing thread, as the thread is threaded through a tightly woven fabric weave.
Care tips for outdoor fabrics
Wash
Have you decided on an outdoor fabric? When determining the optimal care for outdoor fabrics, the first thing that is important is what kind of product you have made. Bags and backpacks made from untreated outdoor fabric are robust, but can be susceptible to stains. Before washing, we recommend cleaning the fabric with a dirt eraser or a damp sponge. Alternatively, we recommend vacuuming the fabric with a vacuum cleaner or cleaning it with a brush. This is often enough to remove stains and dirt from the outdoor fabric.
This also applies to outdoor fabrics that you have used for furniture and upholstery work, as these are often inseparable and therefore not suitable for the washing machine.
Coated outdoor fabrics, on the other hand, are water-repellent and dirt-repellent and are not particularly susceptible to stains. Cleaning with a damp cloth is sufficient here.
As a rule, outdoor fabrics can be washed gently in the washing machine. To do this, choose a wool wash cycle and the appropriate wool or mild detergent. The washing temperature should not exceed 30°C and excessive spinning should be avoided in order not to have a negative impact on the appearance of the outdoor fabric.
dry
After washing, you can hang the outdoor fabric up to dry or lay it out on terry cloth or another absorbent surface to allow the material to dry smoothly. Outdoor fabrics are not suitable for tumble drying.
Iron
If necessary, outdoor fabric can be ironed at a low temperature. Basically, the temperature depends on the material composition. If in doubt, take a look at the information about our material composition and the technical information about our fabrics, where you will find information on how to care for our products.
All information about outdoor fabrics in one summary

We only offer outdoor fabrics made from recycled fiber materials
The most important properties are robustness, light fastness, abrasion resistance, water and dirt repellent, tear resistance and low flammability.
Suitable for outdoor DIY projects to protect against moisture and sunlight.
We offer ÖkoTex certified and environmentally friendly outdoor fabrics "Made in Europe".
Outdoor fabric is washed gently; it is better to remove the stains with a damp sponge or vacuum the fabric.
choosing a selection results in a full page refresh